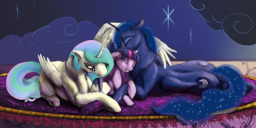 Source
As Twilight goes throughout her new life, she takes care to never forget the special ponies that helped to mold her into who she is, even with the pain that comes with the remembrance. One pony in particular, however, stands out among the rest.
When an unknown future beckons, she calls upon the blissful memories that she treasures so much, and remembers the pony who taught her the most important lesson of all...
How to love.
Cover art provided by SilFoe, used with permission.
Recommended music for the letters: Green and Blue - Halo 4 OST
Chapters (1)