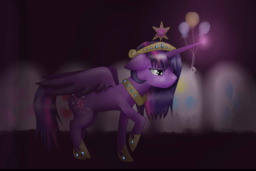 Source
This story is a sequel to Twilight's Song
---
Princess Twilight Sparkle is as eternal as time itself, and yet holds a mortal heart. She knows loss, for she has lost. She knows love, for she has loved. What then, is there left for one who will forever remain?
Cover art provided by SynthieRose, used with permission.
Setting:
This takes place one-hundred years after the events of the previous story. Twilight is now nearing six-hundred years of age, and yet feels as if time has stood still for her.
Technology has advanced, civilizations had risen and fallen, and yet through it all, she has persevered...mostly.
Note: You will notice that technology has not advanced in the same order as that of humans has, with some advancements completely having been passed over. This is because this is a different world with different rules and a different line of physics and power sources. Keep that in mind. Also, do not expect Twilight to act the same as canon. Such a long time can change everything about who someone is, so keep that in mind and don't come to me shouting "OOC".
With that all taken in mind, enjoy the story.
Chapters (4)