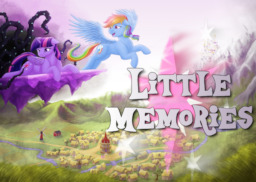 Source
This story is a sequel to Little Consequences
---
When Twilight Sparkle woke up from a coma, she had amnesia and was unable to remember anything save for her name. She couldn't even recall Rainbow Dash, who was the first pony to welcome her back to the world. While upset by Twilight's inability to remember her, Rainbow Dash made an oath; to help Twilight move on from her shattered past and look forward to the future, and make the most of their situation.
Now back in Ponyville, and with the knowledge that they were once very close, Twilight is trusting Rainbow Dash to be her guide as they begin their life in Ponyville anew. The road won't be easy, but with friends like this, what does Twilight have to fear?
---
Edited by Chromio.
Cover art is by Novaintellus. Go and show them some love.
Beware spoilers in the comments!
Chapters (52)