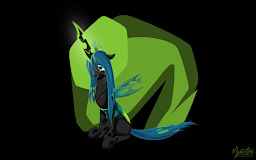 Source
They say beauty is in the eye of the beholder, but what if all who behold you see naught but a monster? Given the chance, can this view change? Sometimes, it just takes one person to reach out...and help.
This story is rated T for violence, use of alcohol, and suggestive sexual references and situations.
Disclaimer: I do not own any of the characters directly associated with My Little Pony: Friendship is Magic, nor the original story.
Cover art used with full permission from mysticalpha
Edit: Featured 04/29/2014. Thanks guys and girls!
Chapters (8)