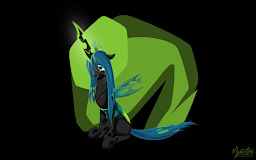 Source
They say beauty is in the eye of the beholder, but what if all who behold you see naught but a monster? Given the chance, can this view change? Sometimes, it just takes one person to reach out...and help.
This story is rated T for violence, use of alcohol, and suggestive sexual references and situations.
Disclaimer: I do not own any of the characters directly associated with My Little Pony: Friendship is Magic, nor the original story.
Cover art used with full permission from mysticalpha
As I'm sure you can tell by the dates of submission, this story was started quite some time ago. Instead of completely ignoring things that have happened since season 3 on, this will be an alternate reality that branched from shortly before Twilight began the path to become an alicorn.
Chapters (9)