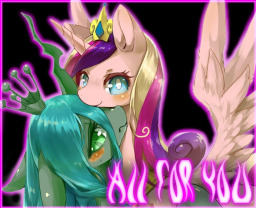 It was never supposed to end like this.
Princess Cadance has saved all of Equestria from the changeling threat. What comes next isn't going to be half as easy.
One wedding may be cancelled, but a new engagement has begun.
---
Massive thanks to my pre-readers/ideas tasters: Bronetheus and RK_Striker_JK_5. Go check out Night Errantry and Spanner in the Works for two great fics that are well worth your time.
Warning: This is an attempt to make the Cadance/Chrysalis ship work, without too much darkness (though there will be some), or it leading to an inevitable bad end. If you hate this idea, believe that Cadance ending up with Chrysalis is automatically a bad end regardless of circumstances, or just think it's plain impossible to pull off then please move on as this fic is probably not going to be for you.
Still if you want to see if this pretty cracky ship can somehow be made to work, and have some fun along the way, then this just might be the fic you are looking for.
If you still hate the concept enough that you feel that you have to hit the dislike button, then fair enough, but if you find something else objectionable then please post a comment, or basically I'm going to assume that you're just disliking the ship rather than the story and ignore you.
The Sex tag is there for some of the humour, some implication to off screen activities, and a few bits on screen that while are no where near the mature rating do push things somewhat compared to the rest of the fic. If you're wondering where the Comedy tag went I decided while I do believe there's a lot of fun and amusement to be had, I can see why it might mislead some readers as some of the events are taken more seriously that you'd expect from an all out comedy.
Chapters (12)