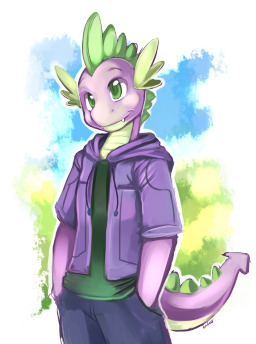 Source
Life is pretty unpredictable for me, but that alone is the predictable part of it. Pretty early on, I learned that I should expect the unexpected, and enjoy the brief moments of peace when they were there. Such an outlook helped me early on to keep from going crazy with all of the stuff that's happened to us all.
As the years passed though, I found my own source of peace: my closest friends.
My best friends were always there for me, and I for them. We held each other up when we fell below the surface of the sea of life, and offered friendly smiles and listening ears to each other when we needed it most. Even with all the insanity we weathered over the years, we became closer in spite of it...or, perhaps because of it. In a world of hoarding dragons, I may be the only one that cherished a small group of ponies over gold or jewels.
---
Rated T for use of alcohol, language of a sexually suggestive nature, and implied sexual acts.
Cover art provided by Zwagyzonk, used with permission.
Note: Ponies are considered adolescent/mature at a much younger age than humans (six and fourteen, respectively). I've made an oversight on this, and I believe this explanation will fix that. Also, this will be a Spike-harem fic, but as with all my other submissions, there is no clop; just a heads up.
Featured multiple times!
Chapters (29)