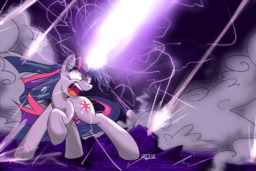 This story is a sequel to My Little Dynamite: Book One
---
Twilight Sparkle, prodigy of Celestia's elite Battle Mage corps, has protected Princess Cadance from changeling assassins, but that can't prepare her for what she must face off against next. A foe even the Royal Sisters have reason to fear has resurfaced and he has debts to settle with the former High Priestesses of the Everfree.
In the far north, beyond the Minotaur lands and Caribou tundra, an unnatural storm is brewing. The Midnight Lord is returned and readying for war. He does not plan to fight fair.
Even Love can be a weapon.
---
Chapters to be posted on the 15th OR 30th of each month unless life gets in the way.
Chapters (13)