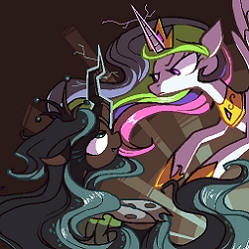 Source
"You are hereby invited to the wedding of her royal majesty Princess Celestia of Equestria."
Strange, as far as Twilight Sparkle was aware, Celestia didn't even have a special somepony let alone a fiancè. Well here's the good news: She doesn't have a special somepony. Bad News: Chrysalis isn't a pony.
What happened between the Goddess of the Sun and the Conduit of the Swarm-mind? Is it just another plot to take over Canterlot, or might there be more under the carapace of the queen than anybody expected? Well, we'll never find out if nobody stops her and Twilight from killing each other first...
----
Click the little source thingie under the cover image cause Karzahnii is an awesome guy.
Also special thanks to Wise Cracker, and MrJoshy, who always endure me pestering them with my story. :P
Chapters (20)