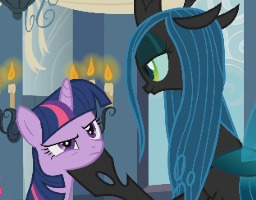 Failing once in her attempt to take Canterlot and failing again in her attempt to take down Twilight, one would think Chrysalis would have cut her losses and let things be, but the queen has once again appeared, this time in broad daylight with no disguise and no army. Her weapon of choice? Diplomacy.
Now Twilight is having to deal with the changeling queen, but surely putting up with her antics will be worth the knowledge she's willing to provide about her mysterious race and the potential undiscovered agents still within their midst...right?
Takes place before Magical Mystery Cure and diverges from there.
With thanks to MisterGunpowder for proofreading and editing.
Revision History:
05/09/2015: Chapter 1 updated with millions of little corrections.
05/20/2015: Chapter 2 revised and edited with another million small and large corrections.
06/12/2015: Chapter 3 given a thorough editing and revision.
06/23/2015: Chapter 4 taken to the gutter and edited twice to be sure.
07/14/2015: Chapter 5 thoroughly brutalized with the editing stick.
08/03/2016: Chapter 6 finally edited. Yes, I'm still alive, dammit.
09/29/2016: Chapter 7 fell out of the editing tree and hit every editing branch on the way down.
10/26/2016: Chapter 8 has emerged from the editing emergency room.
11/17/2016: Chapter 9 found and edited. No casualties reported.
11/30/2016: Chapter 10 treated for whiplash after lightning fast editing.
12/22/2016: Chapter 11 edited. Chrysalis shot first.
01/17/2017: Epilogue edited. Time to hit the cider.
Chapters (12)