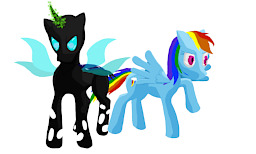 Based on a true story. Kinda. Not really.
A man named Jason previously led a rather melancholy life before he died violently. No surprise there. But as he wakes up in Equestria and is thrown into a foreign body, he is forced to survive with the guise of a changeling. Taking place shortly after the failed changeling invasion of Canterlot, how can he keep from being revealed by new security measures, and blend into this new world, while making use of the most unlikely of allies? But of course, avoiding ponies only turns out to be the easy part when trouble has a habit of reading its ugly head. Really though, what could go wrong?
Props to the ever epic Zubafa for his cover art.
Chapters (52)