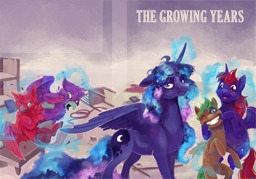 Source
This story is a sequel to A Different Perspective
---
Both the House of Path and Herd Path enjoy strong growth in the years following their establishment. Like all such things though, they both have their highlights and lowlights. These are vignettes in the lives of the children of Twilight, Path, Free, & Roseclaw, from foals to young adults.
This is a series of stand-alone stories of events that occur after the events of A Different Perspective, which I strongly recommend that you read first.
My collaborator, AlaskaIsCold, has written some of these and I mostly just edited them.
Chapters (21)