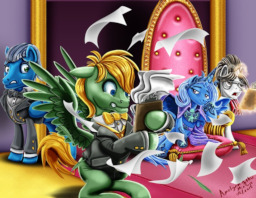 Source
Mark Wells was a klutz, but even he could not imagine stumbling into a mirror that he had just bought at an antique store and ending up in a world of colorful equines, not to mention gaining hooves and wings at the same time. And whoever heard of green fur on a horse? Perhaps the great and powerful Princess that the guard was taking him to would have some answers because he sure didn't!
Written in collaboration with Airy Words.
Sex tag added as of chapter 32 but it's mostly due to talk. Actual sex takes place "off camera".
New cover art by Mix-up and their DeviantArt account is Amalgamzaku.
Chapters (73)