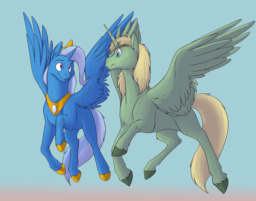 Source
This story is a sequel to Off The Mark
---
Prince Mark Wells may now be an alicorn and the coruler of Equestria along with Twilight Sparkle and his wife, Trixie Lulamoon, but that doesn't mean that his life has gotten boring. Something always comes up, whether he wants it or not! Good or bad, as an immortal, he knows he'll be stuck with these incidents for a very long time.
This is a series of short stories that are sequels to "Off The Mark".
Written in collaboration with Airy Words.
Cover art by Foxenawolf.
Chapters (23)