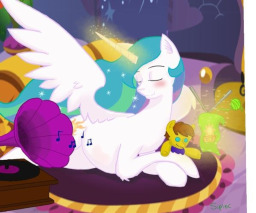 Source
This story is a sequel to Principal Noses and Ancient Roses
---
Baked Bean, fresh off his victory over the sirens at Canterlot High, is now eagerly preparing for the arrival of his first child with his beloved Princess Celestia while still attempting to perform his royal duties.
But old foes still lurk in the shadows, and Celestia's pregnancy may offer a few unique challenges as well. It will take everything Baked Bean can give to endure the coming storm...
Or maybe he just needs to provide Celestia with a deep-fried pickle covered in chocolate sauce and smothered in sauerkraut.
---
Editors:
Sipioc
Georg
Zen and Ponies
Spartanpony007
Cover Art:
Bean In the Oven by Sipioc
Chapters (31)