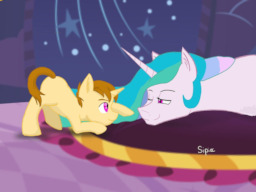 Source
This story is a sequel to Pregnant Noses Know
---
Princess Celestia and Baked Bean, after a nearly year-long wait, are now the proud parents of a healthy unicorn colt. Naturally, little Apollo Bean will receive nothing but the finest as he begins his own princely journey, but babies always have their own set of unique issues, and Celestia will find another new life waiting for her as she integrates motherhood into her already busy schedule.
Elsewhere, the Kingdom of Equestria moves on as well. Chrysalis continues to be Chrysalis—much to Sergeant Hokey Pokey's chagrin—Trixie continues in her new role as Baked Bean's secretary while Miss Wysteria and Sergeant Quillpoint take time to work on their relationship and to take care of their brand-new twins, Twilight Sparkle begins teaching Starlight Glimmer about the friendship of magic after several world-ending events, and even Prince Blueblood finds much to accomplish upon returning from Yakyakistan.
But while forgotten friends and new adventures await, Baked Bean and Celestia know that, come what may, they will enjoy all of the ups and downs together...
As a family.
---
Edited by Georg, Double R Forrest, Tek, and Sipioc
Chapters (11)