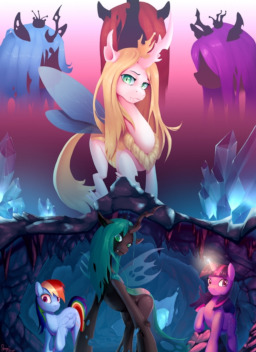 This story is a sequel to Winds of Change
---
Changelings have always been a secretive race, shrouded in mystery and keeping to themselves, staying unnoticed and in the shadows, feeding where they could and avoiding discovery at all costs. When Chrysalis made peace with Celestia, the veil of secrecy and subterfuge was shattered, and thanks to Twilight's efforts, the other changeling queens can no longer remain hidden.
Of course, Twilight is more than happy to leave the tricky diplomacy to Celestia. She's having a hard enough time dealing with her own amorous changeling queen and her new personal pegasus guard competing with her.
-
Cover work done by the talented Jazzy. You can find his works here and his stream here.
Editing work provided by Snoodude and MisterGunpowder.
Chapters (14)