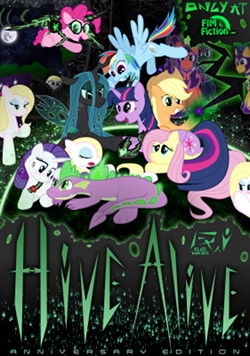 Source
This story is a sequel to Queen No More
---
Twilight Sparkle made the most foolish and selfless decision possible. She saved the life of Queen Chrysalis. The dynamics of Twilight's relationships begin to change as Chrysalis introduces the changeling hivemind to her pony caretaker. Chrysalis' only hope was to relieve her loneliness, but events begin to unfold that will change Equestria forever.
Nothing is stronger than the power of redemption...
NOTES
1. This is the sequel to Queen No More but there is a time jump between its end and Hive Alive's beginning.
2. This is Alternate universe due to the fact that this story will run off of a disparate timeline. Events forward of season 2 may be similar OR significantly altered.
3. There is mention in Chapter 3 of an old changeling tale titled As a Star. A version of this has been written by Farseer.
NO MORE UPDATES: The story is complete. A sequel has been made: Queen of Equestria.
FULL TIMELINE SUMMARY OF STORY AND CHAPTERS
2014 ANNIVERSARY AND HOLIDAY UPDATE
Updated outer cover, inner cover, and description!
2 new HD wallpapers!
Hive Alive 2013
Hive Alive 2014
New extras collection, Hive Alive Moments, including...
Too Hot
Perfect Marriage
The Hive Before Halloween
Take Two
Shy My Heart
Featured May 24th, 2014 and on every chapter release since then.
Art by BlackWater (that's me)
Chapters (50)