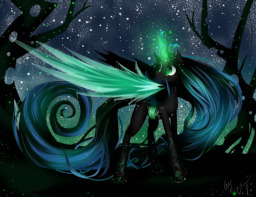 Source
In an Equestrian archaeological excavation several years ago, they found several scrolls, made out of a thinner version of the material that changelings use in construction. It took a few years before a professor by the name of Page Sheaf, through the interrogations made from captured changelings during the Royal Wedding, was able to fully translate it.
One of the scrolls featured a character named Princess Novo, a princess of the hive of the Grey Monarch, that lived several centuries previous.
Includes commentary and an introduction by Professor Page Sheaf.
---
Inspiration and permission by BlackWater. Read his other works as well, including the story Hive Alive, which is responsible for this idea.
Chapters (2)