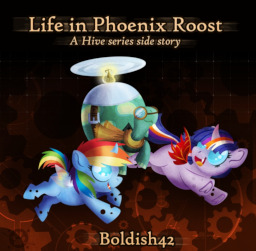 Source
The changeling hive of Twilight and Rainbow have settled in the Everfree Forest and they have had many adventures. But what happens at home? What's it like to live in Phoenix Roost? What's it like to be a Thestral from the long dead Moonlit Empire living in the modern day? A Tea'la from the nightmarish Chaos Lands? A pony among a sea of purple and blue shape shifters? Or even a Sphinx from distant lands with strange customs? Let's find out.
Side story to the Hive series by Law Abiding Pony. If you're not familiar with it how'd you find this? Go check it out, it's pretty good if I do say so myself. Course I do edit for it... Also very little would make sense if you jump in with just this story.
Pre-read and edited by LAP and BitterPill
Awesome cover art by PaintSplotch!
Tags will be altered as the story continues.
Chapters (4)