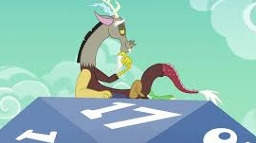 Source
What do an aristocrat's daughter, a socially awkward young American, and a recently-divorced Catalan bartender have in common? Thanks to a fickle draconequus, they're all now ponies.
With humanity as his dartboard, Discord's game of pin the tail on the pony can target anyone, with little regard to circumstance or former gender.
And with government suppression of the newly transformed ponies pressuring them on one end, and a shadow war between the mafia and an unknown alien threat on the other, it will take everything they have just to survive. And if they're particularly unlucky, they may just learn something about friendship.
Part of the Chaotic Touch of Harmony Universe: http://www.fimfiction.net/group/205332
Written with permission from but not necessarily endorsed by the original author, Law Abiding Pony
Chapters (17)