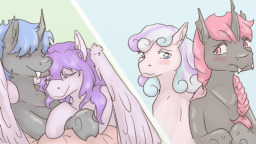 Source
This story is a sequel to The Village Called Respite
---
There is a day those mischievous, playful changelings of Respite hold most important of all. The day Queen Serenitatem set aside to give thanks to the ponies who shared love, and one where love between races so often thrives.
For two fillies, the challenge isn't so much the gifts they know they'll receive from the nymphs they so adore, those terrible twins. It's the fact that no Respite pony worth their tail has ever let their changeling friends get away with giving a gift without receiving one in turn, or sneaking a peek to make sure they offer something just that much more in value. Especially since one has every intention to make this day the start of a wonderful relationship between herself and the beautiful nymph who makes her chest fill with fluff and butterflies.
Artwork by the one and only Rossby Waves.
Chapters (4)