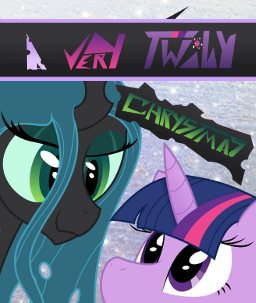 Twilight and Chrysalis spend Christmas together. The alicorn wants to use the concept to do something nice for her friends. The changeling just wants the four letter word. Being a princess means Twilight has to be more calm and collected when she makes decisions and when she reacts to the world around her. It's a good thing that she's been making progress on that or else the holiday would likely end up a flaming wreck, courtesy of her overzealous obsession with perfection.
Thankfully, the wishes of the pony and changeling are compatible this time.
NOTES
1. Soft holiday Chrylight fluff. Don't over-think it.
2. Rated teen for a little playfulness. Nothing too extreme.
3. Lyra needs to tone it down with the human craziness.
4. It's a good thing Pinkie Pie doesn't know about Christmas yet...right?
5. Based on setup from Queen No More.
6. Not a part of Hive Alive's official timeline.
7. Merry Christmas, my little Chrylighters!
Art by BlackWater (me)
Chapters (1)