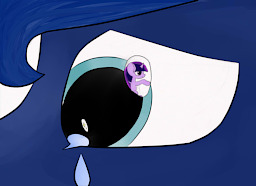 With each passing day the cries grow louder, her laughs tainted more and more with mocking, the destruction spreading.
The memories of Luna's rebellion as Nightmare Moon still hang around her neck, dragging her down. Twilight knows the princess's troubles, and she wants to relieve the burden. The nights are dark however, and Luna's dreams darker.
Can Twilight really stitch Luna back together, or are some wounds too deep to heal?
Chapters (3)