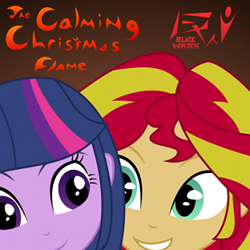 Source
Sunset Shimmer has been living a reformed life for quite some time now. Whether by fate or random chance, she wound up in a serious relationship with the Twilight of the human world. She's content with where she is and has never been happier to be accepted and loved. In fact, she hopes that this Christmas will give her the opportunity to express how deeply she feels for Twilight.
NOTES
1. Sunlight fluff for the holidays.
2. Third consecutive year for me producing a Christmas special!
3. Post Rainbow Rocks. Featuring EqG-world Twilight. I could have written volumes to explain backstory but c'mon. It's a fluff-shot.
As always, art by BlackWater (me)
Chapters (1)