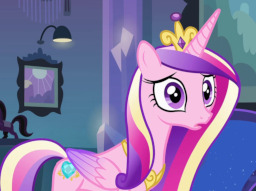 This story is a sequel to A Canterlot Engagement
---
Princess Cadance has been sleepwalking, and even she doesn't know why. Twilight's Advanced Projects group has the perfect way to find out -- assuming Tempest can talk Cadance into going along with it...
In the process, Twilight and her friends learn a few things they didn't know about Cadance's past -- and find some unexpected mysteries as well...
For more of this series, see: A Canterlot Engagement.
And also check out the entire series, beginning with Not Exactly Friends.
Chapters (1)