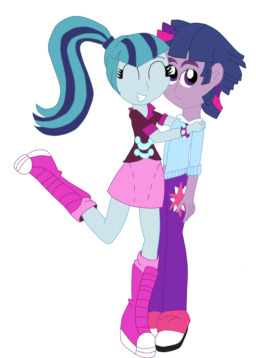 This story is a sequel to A Tale of Two Dusks
---
Dusk Shine has never been particularly interested in making friends. Most of his time has been spent investigating the strange conspiracy theories surrounding Canterlot High, with occasional snark fights with his sister.
However, after meeting Sonata Dusk, he promised to help her out, and he plans to follow through with that promise. But between Dusk's inexperience with the whole "friendship" thing, the mysterious events that tend to occur around Canterlot High School, a pair of sirens who are still on the loose, Sunset's well-meaning but unhelpful friends, a mother who seems intent on welcoming a new member of the family, a bunch of students who are still not quite willing to forgive Sonata, and a girl who sees her as a threat for a very different reason, he feels as if he may have bitten off more than he can chew.
Hopefully he'll figure it out. And maybe even discover something greater than friendship.
---
Reading A Tale Of Two Dusks is not strictly necessary, but it will be helpful!
Also, a big thanks to Tennis Match Fan for the cover pic, as well as for proofreading!
Chapters (9)