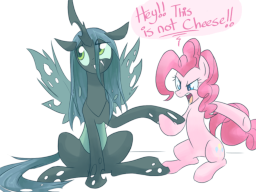 Revenge. It has been the only thing on Chrysalis's mind during the months of her exile. What should have been her greatest triumph turned out to be her ultimate downfall. After months of waiting, she has at last developed a plot to win back the support of the changelings and take over Equestria: Run a dating service.
Disguised as the lovely unicorn Cherub, she starts up her business, ready to reclaim what she had lost. However, she soon discovers that the dating world is not as simple as it appears. Realizing that she cannot do this alone, she is forced to seek help from the most unlikely of sources.
Cover image created and permitted by FeliXao.
Chapters (23)