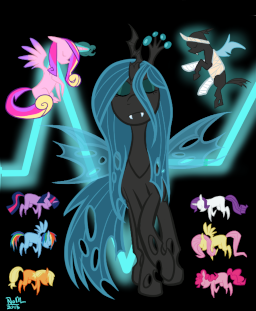 This story is a sequel to The Retribution of Chrysalis
---
Queen Chrysalis has spent the last few weeks living with Twilight Sparkle, hiding from the public eye and awaiting news of Princess Celestia's changeling relief effort. When Shining Armor discovers a critically injured changeling on the outskirts of Appleloosa, to Chrysalis' infinite delight, her hope for her race's survival is instantly reinvigorated.
But then the Canterlot hospital refuses to properly care for the changeling, leaving Cadance to provide the love he requires. The publicity forces Chrysalis to reveal herself to a fearful populace, driving her into the hooves of a fellow outcast. And perhaps worst of all, the awakened changeling has forsaken his queen. In his eyes, and in those of all of Equestria, Chrysalis must once again redeem herself.
Cover art by Nocturnal Melodies (No_M), drawn at my request for the story.
Chapters (10)