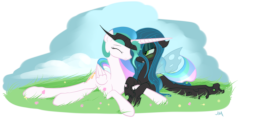 Source
Princess Celestia never thought she would ever truly find "The One." And she certainly never thought that when she did it would be someone who tried to conquer her kingdom.
Queen Chrysalis had no room in her heart for love. It was food and nothing more. Falling in love with a princess was definitely not something she would ever expect.
This is a series of short stories detailing the daily lives of Princess Celestia and Queen Chrysalis and the forbidden love they share.
Now with a dramatic reading by BrastaAura17
Chapters (6)