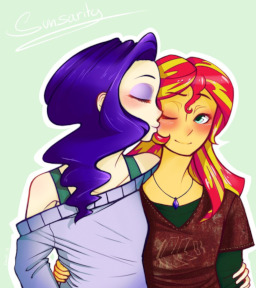 Source
This story is a sequel to A Generous Soul
---
Many things happened the night of the Fall Formal that surprised Sunset Shimmer. Becoming a demon, gaining friends, and becoming hated by everyone else (well, most things surprised her). The one thing she absolutely couldn't have seen coming was finding a girlfriend.
Rarity has been the best thing to happen to her in a long time. Rarity is always there when Sunset needs her. So when their friends start a band, sirens enact their sinister plans, a princess returns, with all of it culminating in a massive magical battle for the fate of the world, it's good that Sunset has Rarity.
After all, with all the stress and insanity it helps to have someone you love.
Featured on 6/7/15 for a few hours

Cover art by Deadiifoozgo
Chapters (4)