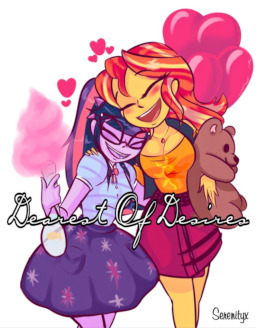 Twilight Sparkle goes to a party at Vinyl Scratch's with her best friends: Rarity, Applejack, and Fluttershy. Unfortunately for her, she spots her ex among the crowd. So quickly, with her friends nowhere in sight, Twilight stupidly decides to pretend to be dating the nearest person she could find. Who by the way, happens to be a very attractive fiery-haired woman. Now with this mysterious girl gone, Twilight decides to do nothing but to track her down.
What happens next? Twilight surely doesn't know.
---
Written For PRIDE Month!
New chapter likely every week; can change.
Au, takes place in college, no magic, humans only.
Story tags and character tags will make more sense as the story goes on.
Original cover art, here.
Check out My Story Timeline, for more stories!
Chapters (9)