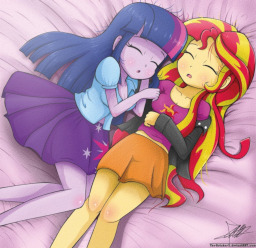 After a long day at work, Sunset Shimmer can't wait to come home to her beautiful fiance Twilight. Specifically, for a movie and some cuddle time.
However, when she gets home she finds the house pitch black. She goes inside to not only find the noise and the bright glow of the TV, but Twilight on the couch crying!
What's Twilight so upset about? Can Sunset calm her down?
Youtube reading by Agent0Fluffy.
Click Here for My Story Timeline.
[A/N] This is my first EVER story! Please, be nice :)
Chapters (1)