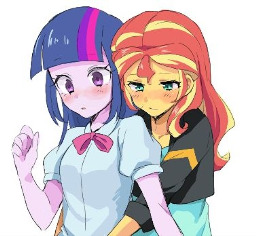 Source
This story is a sequel to We've Come a Long Way
---
Twilight Sparkle and Sunset Shimmer are both talented, beautiful, smart, and flirty woman. AND they're married! These two could seriously win couple of the year! Everybody knows it, everybody see's it, and everybody wants it. However what comes with the good always comes with the bad... and what's romance without a fight?
What happens when the two lovely weds have a situation they CAN'T work through?
What happens when they have their first ever so BIG fight? Is there ANY hope for their relationship?
~Includes another character that will be introduced in the story. (don't want to ruin the surprise!)~
Click here for My Story Timeline
-A/N- This is a bonus story that goes along with Loving Doubs and We've Come a Long Way. I hope you enjoy it!
~AU Series, No Magic, No Equestria, Only Humans!~
Chapters (2)