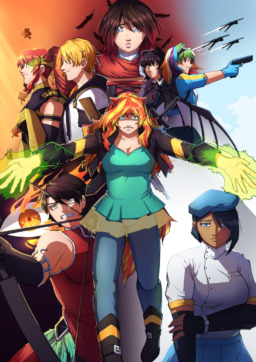 Sunset Shimmer fled from Equestria in search of the destiny that Celestia sought to deny to her. She dreamed of finding great glory and power in a strange new world. But she emerged on the other side of the mirror in a harsh cruel world beset by demons and troubled by division, conflict and racial animus: the world of Remnant.
Now, years later, Sunset has completed her studies at Canterlot Combat School and is ready to attend Beacon Academy. She hopes that in the more progressive Kingdom of Vale her appearance as a pony faunus will not be held against her the way it was in Atlas, and she can rise as high as her talents permit and seize with both hands the destiny she still yearns for.
Sunset finds herself assigned to lead three fellow freshman at the Huntsman Academy: Jaune Arc, who dreams of becoming a hero elevated above all others; Pyrrha Nikos, a peerless warrior who has everything that Sunset wants and hates everything about it; and Ruby Rose, a simpler and more honest soul who simply wants to save as many people as she can, and who might just light the way to their salvation.
Together they are Team SAPR, and together they are plunged into a world of mysteries, magic, allies and enemies, robot girls and Atlasian black ops experiments. It won't be easy, but if they can work together, teach Jaune how to fight and maybe learn to get along as friends along the way, then they might just save the world.
Original Cover Art by Mix-Up
Current Cover Art by MRK50
Now with a TV Tropes page
Chapters (432)