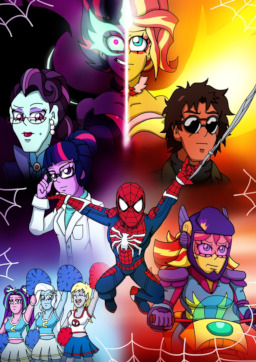 This story is a sequel to Ultimate Spiders and Magic: Episode III "Genetic Conscription"
---
The annual Friendship Games are near, and everyone at Canterlot High is ready to take on their rivals at Crystal Prep. However, Peter Parker has his own issues, as his past resurfaces in the forms of his former principal, Abacus Cinch, and intellectual arch-rival, Twilight Sparkle. To make matters worse, magic seems to be running amok during the competition, and Sunset Shimmer finds herself amidst an existential crisis as she attempts to find her place in the world.
Life continues to have fun at your Friendly Neighborhood Spider-Man's expense.
Coverart done by edcom02
Special thanks to this group of editors and proofreaders! Regreme, Azu, Commander Stelios, Titan Commander Sebaste, and Marvelsoldier
Chapters (9)