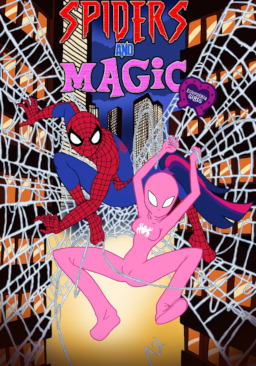 Source
This story is a sequel to Spiders and Destiny: The Fall of Wolf-Spider
---
Officially Complete.
A Spin off story Based on Maximus Reborn 's story Spiders and Magic Rise of Spider-Mane.
At the end of the school year, before Summer Break, Twilight Sparkle learned a lot about friendship, but some students still were scared of her, because during the Friendship Games, she was transformed into Midnight Sparkle, and open portals to Equestria, even after Sunset Shimmer became Daylight Shimmer and saved Twilight from her corrupted magic hungry mind, she stills holds Midnight inside her.
After the Friendship Games and being the new transfer student at Canterlot High, Twilight focuses on her studies, learns for her new friends about friendship, at home, she watches the news, but mostly about a superhero in New York... Spider-Man. What started as a classic fan girl crush, turn into something special, since she now knows the magic comes from Sunset and her friends, Twilight studies Spider-Man, how he can whatever a spider can, by taking a sample of some DNA from different Spiders, Twilight has created her own altered Spider Venom and she injects herself she with it, she now has speed and strength of multiple spiders. She created a costume using cloth and fiber, she called herself Spider-Girl.
But what Twilight will learn about being a superhero, their always gonna make enemies.
She will learn how to forgive herself while soon starting with Peter Parker, her the friendly neighbour Spider-Man.
Chapters (54)