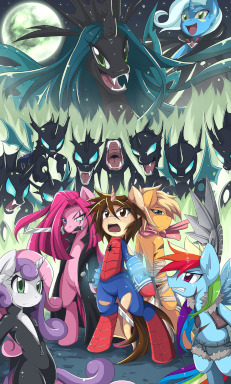 This story is a sequel to Spiders and Magic II: Eleven Months
---
Officially complete!
During a time of peace, Peter disappears in what seems to be an accident and is pronounced dead. However, he wakes up in a distant future where Equestria is in ruins, most of his loved ones are either dead or captured, and the world is under the rule of Empress Chrysalis. Spider-Mane must reunite with what remains of his friends to save this tattered future, all while desperately searching for a way to return to his original timeline.
*Thanks to Kestrel, Darth Cygnus, Commander Stelios, Regreme, Vandenbz, Lord Lycaon, The Slending Angel, cosmic flash, Derp McShirk, NeilHD, and Dark Seqvus, for editing!
Collab with Azu
Cover art done by JinZhan
Featured: 2/28/2015 -3/2/2015 (Thanks, everyone!)
Chapters (10)