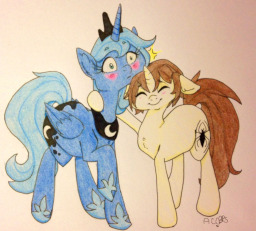 Source
Spin-off to the Spiders and Magic series.
The butterfly effect, the phenomenon whereby a minute localized change in a complex system can have large effects elsewhere. What if Princess Luna never hesitated in confronting her feelings for Peter Parker before Twilight Sparkle?
Featured! 12/25/2016 - 12/26/2016 (Thanks, everyone!) - Officially complete!
*Thanks to Kestrel, Darth Cygnus, Commander Stelios, Regreme, Lord Lycaon, cosmic flash, and XangelMusic for editing!
Collab with Azu
Cover Art by ameliacostanza
Chapters (12)