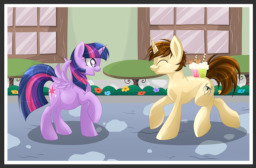 This story is a sequel to Spiders and Magic: Rise of Spider-Mane
---
Officially Complete!
A collaboration done with Azu.
With the Green Goblin defeated, Peter Parker and Twilight Sparkle are ready to take on their greatest challenge yet: parenthood. They have eleven months to prepare. In the meantime, they'll also have to earn the trust back of everypony in Equestria, survive Twilight's hormonal outbursts, deal with Black Cat's antics, endure Trixie's sarcasm, and work up the courage to take the next important step in their lives.
Cover image done by Black Freya
Chapters (10)