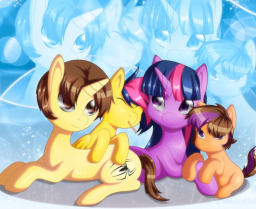 Source
This story is a sequel to Spiders and Magic III: Days of Friendship Past
---
Companion one-shot to Spiders and Magic: Rise of Spider-Mane, Spiders and Magic II: Eleven Months, Spiders and Magic IV: The Fall of Spider-Mane.
There are two individuals from entirely different worlds. One is rumored to be the greatest hero in history while the other may just very well be the most powerful being on the planet. They met by chance, and circumstances led them to form a bond. Over time, it blossomed from a budding friendship to a loving relationship. There are flaws apparent, specifically the occasional clashes in their similar yet different personalities. These are forty reasons why Peter Parker and Twilight Sparkle should (and should not) fall in love.
*Thanks to Kestrel, Darth Cygnus, Commander Stelios, Regreme, Vandenbz, Lord Lycaon, The Slending Angel, cosmic flash, Derp McShirk, NeilHD, and Dark Seqvus, for editing!
Collab with Azu
Cover art done by Mesiasart.
Chapters (1)