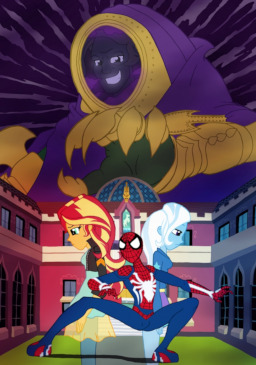 This story is a sequel to Ultimate Spiders and Magic: Episode V "Neogenic Nightmare"
---
While everyone is away for the Camp Everfree trip, Peter decides to stay behind amidst the Man-Spider aftermath. However, Trixie's father, Jackpot, comes into town for his magical performance tour (and hidden illegal matters) as the Great and Powerful Mysterio. Now, Spider-Man must contend with the magician's powerful illusions and technology, all while trying to preserve his friendship with Trixie and learning of her family's turmoil.
Life is never simple.
Coverart done by jmkplover and edcom02
Special thanks to this group of editors and proofreaders! Regreme, Azu, Commander Stelios, Titan Commander Sebaste, and Marvelsoldier
Chapters (8)