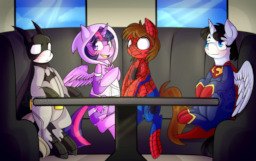 This story is a sequel to Spiders and Magic: Rise of Spider-Mane
---
Based on the Super Cafe series and centered around the Spiders and Magic series.
A short collection of what-if scenarios had everyone practiced hindsight, foresight, and common sense to prevent some of the biggest plot-holes in the Spiders and Magic series. Might be expanded upon, depending on the feedback and requests. (Officially Complete)
Cover Art done by woogiegirl (Woogs)
Thank you, XangelMusic, Lord Lycaon, Regreme, and Darth Cygnus for editing!
Chapters (2)