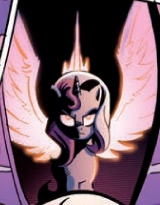 As Celestia's personal student, there was no doubt in Sunset Shimmer's mind that she was the most powerful Unicorn in Equestria. There was no spell she couldn't master, no lesson she couldn't learn...save for one.
Hoping to rectify the situation, Princess Celestia broke one of her own rules and unearthed Starswirl's Mirror, hoping that, by gazing into it, Sunset would see what she always wanted. Unfortunately, the plan worked a little TOO well, but not in the manner she hoped.
Cast out and believing herself betrayed by Celestia, a desperate Sunset decides to seek out her 'Hearts Desire' on the other side of the Mirror...to a place where she will learn the lessons Celestia so desperately wished for her to learn: that Friendship is Magic.
Chapters (7)