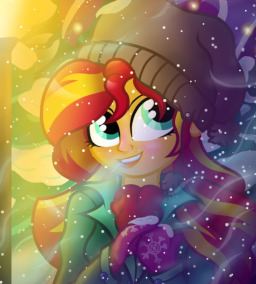 Source
This story is a sequel to Sunset Serenade
---
Sunset Shimmer isn't having the best Christmas this year. True, her friends are coming to spend Christmas Eve dinner with her, bringing loads of gifts with them, but one thing is preventing her from enjoying the idea: she's yet to find a present for her girlfriend Rarity. After a failed shopping trip the day before Christmas Eve Sunset goes to bed bitter about the holiday.
And then a Christmas Spirit appeared. Now Sunset is forced to take a journey to her past, her present, and her future to see what she needs to see. And maybe she can take what she learns and make the holiday one worth remembering.
Sequel to A Generous Soul and Sunset Serenade. Neither are really needed to understand the story.
Cover art by SunsetCrady.
Chapters (1)