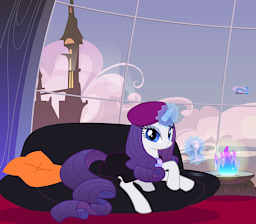 Source
Rarity has risen to the highest stretches of the fashion business and high society, but she's found that not all is as it seems. In the corners of cocktail parties all over Equestria, dark conversations are found. Eventually, Rarity can take no more of this, and begins reporting back to Celestia in secret while delving deep into a world she had no idea was so intertwined with her life's goal.
How much of herself is she willing to give up to protect the throne and, more importantly, Twilight Sparkle? The life of a spy is a dangerous one indeed.
A canon story in the Rites of Ascension Expanded Universe! Artwork by Violet Squiggles. Author's Notes, including proofing credits, can be found here.
Chapters (5)