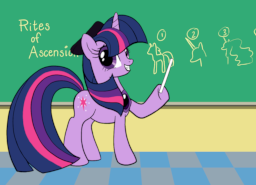 Source
A collection of silly, bite-sized skits where the characters crush the fourth wall into dust to talk about the world of Rites of Ascension, all while poking fun at each other. Learn about the ascension process, cored weaponry, and more!
This is a NON-CANON Rites EU "story." (The characters break the fourth wall completely, so of course it has to be non-canon.) Art by my lovely and amazingly talented wife, Violet Squiggles! You do have to have read Rites of Ascension to really understand this one. You're going to be seriously lost if you start here. That being said, you do not need to read this story to understand what's going on in Rites. This is to add to something already whole (and maybe get a few laughs), not make up for shortcomings elsewhere. Also, I thought it would be fun.
Also, as this is non-canon to Rites, I can go back and change things if I like. Generally, this will only happen if something hasn't been explained in the canon stories yet and has to change for them. Hopefully I won't ever actually have go do that, but if I do, I'll point it out in the chapter.
Chapters (10)