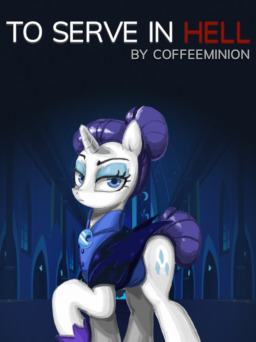 Source
Warning: the comments are rife with spoilers!
---
Starlight Glimmer's attempts to stop the Rainboom pulled Twilight Sparkle into many possible timestreams.
In one, Rarity and Rainbow Dash survived Nightmare Moon's victory over the forces of light, eventually attaining positions of prominence and comfort in the Nightmare's service. But when the unexpected visit of an Alicorn and Dragon sheds light on a growing conspiracy against the wicked mistress of the night, Rarity and Rainbow Dash may yet be inspired to risk what they have gained to join the fight for a better world.
Yet darkness lingers even in the hearts of some who would oppose the Nightmare, and not all agree on what a better world would look like...
---
This story would not have been possible without the indescribably vast help and unwavering support of Moosetasm, the pre-reading assistance of I-A-M and Waxworks, as well as the editing prowess of OnionPie and Pascoite! Cover by Novel Idea, using Rarity by miracle32 and background by Drakizora! Featured on Equestria Daily 17Jul.2016!

Featured on FimFiction 2Feb.2017 and many times thereafter!

Chapters (40)