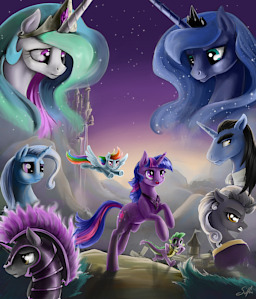 Source
A different take on alicorn ascension. Sixteen years after arriving in Ponyville, Twilight Sparkle is excited to have invented a brand-new kind of spell, but it will come with consequences she cannot possibly anticipate. Meanwhile, threats in shadows around the world conspire to overthrow the Solar Throne. With her world turned upside down, she will have to come to terms with the role that fate has dealt her while straining to keep Celestia in power.
Now with a TVTropes page! Please show it some love! Also check out the official side stories, Designing Intrigue, and Love and Barriers! (With even more in my stories page!)
(Please Note: This story was started before any season three information was available. All episodes in season three and later are non-canon for this story, which also means there's no Crystal Empire in this one. In addition, the promotional map released close to the beginning of season three was also not available and is not compatible with this story. While the OC tag is active because there are OCs in the story, they're really just supporting characters. The focus is on Twilight.)
Also be sure to check out the Rites of Ascension Expanded Universe Group! We're working to develop the resources needed for other authors to try their hand at writing stories set in the Rites Universe!
The Book Two cover art was created by the amazing Silfoe! The original cover art can still be found at Violet Squiggle's deviantArt page.
Author's Notes, including proofreader's credits, can be found here!
"This is 100% Approved by Twilight's Library!"
Chapters (103)