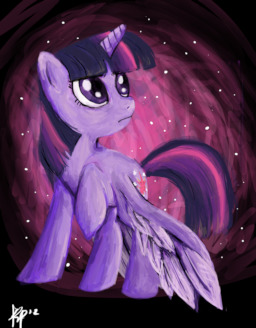 'Normal...
What does it mean to be Normal? According to the dictionary, Normal is conforming to a standard; the usual, typical, or expected. It's almost scary really. That such a simple word can define the lives of so many. Day in and day out we toil in the machinations of society in an effort to maintain the status quo handed down from the generation that preceded us, all in the name of this Normal. What price would you pay for your Normal? Would you give up all your bits? Your home? Your friends? What if I told you that the 'Normal' you ponies cherish so much came at the cost of everything I hold dear?
My name is Twilight Sparkle, and I am not Normal...'
---
Many thanks to my illustrious Co-author: Dagger Tongue.
Additional Thanks to my fantastic and amazing editors:
Comrade Sparkle
Hyzaku, Gwenio, Beige Monkfish.
Incredible gratitude to Bristlebrushes, consultant to the story and fixer of all things writers block, seriously, shes like superwoman.
Cover art by the incredibly amazing xXCiaoBella23Xx on DeviantArt! Without whom the cover art would be forever bland!
Chapters (6)