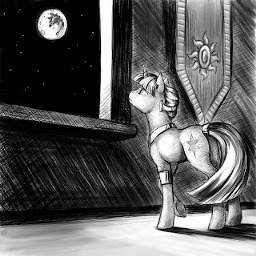 Orphaned from birth, with only the memories of a soft touch and gentle voice to remember her by, Twilight yearns for her mother. What pony wouldn't want to know why they were abandoned, why they were left to be found by the Princess of the Sun herself.
That was nearly two decades ago though. Twilight was older now, and hopefully wiser. She is happy with her two best friends, Cadance and Shining Armor. They are like family to her, the brother and sister she never could have. Though dreams still haunt the young mare, dreams of lullabies and tender kisses, she has moved on.
The personal servant to the Princess of Helios, the land of the Sun, Twilight enjoyed both rank, and knowledge. But it also means that when Princess Luna comes to visit her old friend, Twilight is given the task of tending her. The Princess has come in search of marriage, at the behest of her ruling Council. They demand an heir to ward off the potentially catastrophic attacks of the neighboring dragons.
Soon, Twilight will be tested and tried. She will be given the a choice between the life she has known, and the duty she is sworn to. But never, not once, will she forget.
For who can stop loving their mother.
Chapters (23)